ABCO members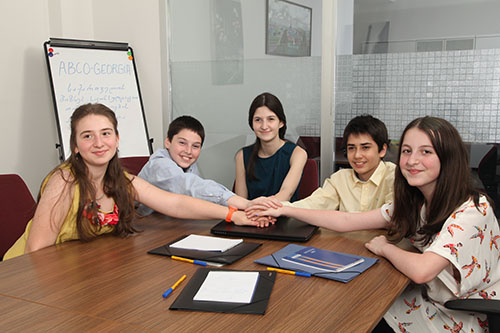 Members of ABCO are well established and reliable business consulting organizations,  companies, rural service centers and extension centers operating in various cities and regions of Georgia whose combined work experience includes considerable number of the business development projects successfully implemented and managed in various regions of Georgia.   
ABCO's member organizations employ services of highly qualified and relevantly experienced staff of consultants, who had been also trained through the appropriate on the job trainings and internships provided by the leading European business consulting organizations.   
The number of ABCO's member organizations is permanently increasing through newly established BCOs (Business Centers, Agro-Business Centers) created in different regions of Georgia through local initiatives supported by ABCO and with financial support from various international donor organizations.   
Current membership of "ABCO-Georgia" unites 30 local business consulting organizations which include:
Small & Medium Enterprise Development Agency "Smeda-Tbilisi" (Tbilisi); 
Business Support Center "BSC-Kutaisi"(Kutaisi); 
Gori Business Support Center (Gori); 
Signagi Agro-Business Center (Tibaani); 
Akhaltsikhe Business Center "ABC"(Akhaltsikhe); 
Akhaltsikhe Rural Service Center "ARSC"(Akhaltsikhe); 
Guria Agro-Business Center (Ozurgeti); 
Small Business and International Business Relations Support Foundation "Abkhazinterkonti"(Kutaisi); 
Association "ATINATI" (Zugdidi); 
Association "SAMANI" (Samtredia); 
Business and Legal Development Center (Chiatura); 
Small Business Development Center (Zestaphoni); 
Georgian Women's Employment Supporting Association "AMAGDARI" (Tbilisi); 
Rustavi Business Center (Rustavi); 
Akhalkalaki Business Center (Akhalkalaki); 
Marneuli Business Center (Marneuli); 
Kakheti Business Center (Telavi); 
The Chamber of Development of Small and Medium Enterprises (Poti); 
Mtskheta Mtianeti Business Consulting Center (Dusheti); 
Borjomi Business Consulting Center (Borjomi); 
Svaneti Business Center (Mestia); 
Georgian Farm Products Production and Promotion Agency "GFPA" (Tbilisi); 
Association Caucasus Genetics (Tibaani); 
Akhalgori Business Support Center (Akhalgori); 
GDCI Consulting (Tbilisi); BCNG Batumi; 
BCNG Zugdidi Business Consulting; 
Martvili Agro Service Center (Martvili); 
Dioknisi Rural Service Center (Khulo); 
Dedoflistskaro Business Support Center (Dedoflistskaro).